PORTO ECOMMERCE Html TEMPLATE
The Best Html+ eCommerce

ever
Porto is simply the best choice for your new website. The template is several years among the most popular in the world. VIEW MORE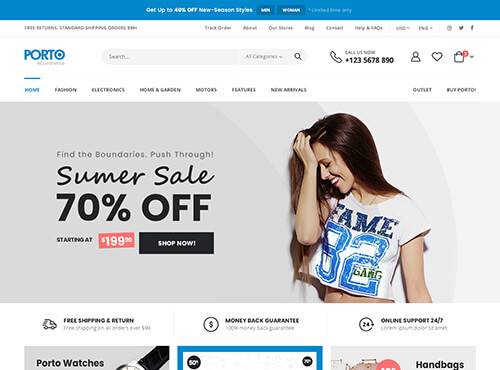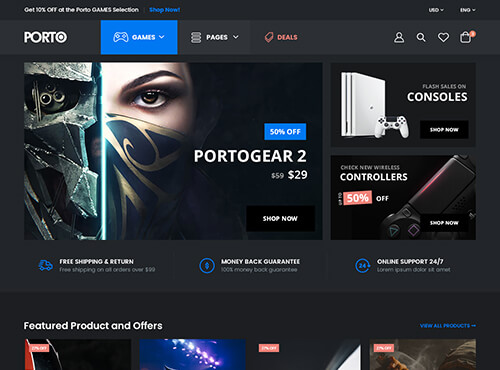 #1 Popular eCommerce Design
* Proven through 100k+ eCommerce Websites
The Perfect Template for
a Professional Online Store
YOUR eCOMMERCE TO A NEW LEVEL
Porto is simply a better choice for your new website design. The template is several years among the most popular in the world, being constantly improved and following the trends of design and best practices of code. Your search for the best solution is over, get your own copy and join tens of thousands of happy customers.
Modern Designs!
A lot of Demos!
The new generation of Html Template is here.
A complete suite of tools designed to make life easier with a top quality website templates.
Super High
Performance
Created With Top
Extensions
Extremely Easy
To Customize
---
The Most Customizable + Solid and Tested Base
Porto has a huge variety of options and features to create your site, it has also a very solid based that is being improved and tested by professional developers since 2013.
Reasons
Why you should choose
Porto
With Porto your satisfaction is guaranteed.
We have selected the 5 top reasons to choose Porto. Check below:
1
OPTIMIZED FORSpeed Performance
Choose Porto and make your site at high performance. We know your website must work as fast as possible.
2
THE MOSTSolid and Tested Base
Porto has a very solid development base that has been improved since 2013 by our best developers.
3
TOP DESIGNS CREATED BYeCommerce Specialists
The designs of all pages and all demos included in Porto were created by usability experts and modern designs standards.
4
THE BESTCustomer Experience
4.9.2 average rating based on 2.1k+ reviews, Top 1 best rated UX design.
5
ALWAYS KEEPTemplate Updates
Lifetime regular update makes porto always "best" compared to other competitors.
Top Performance
Porto has high performance base, all structure are focusing on performance as main point. Porto speed optimization is super fast compared to other templates.
Works Perfectly on
Any

Device!

We believe you will face lots of traffic from mobile device users not only from desktop or laptop users. Porto is the best solution for you, works fine on any screen resolutions and mobile devices. Try Porto and see how it works!
45 Prebuilt Demos Ready to Use
ADVANCED eCOMMERCE-FOCUSED
Headers and Menus
Porto comes with several headers and menus options for you to use on your website. We have created several options always focused on the best user experience to improve your business.
Select any of the options we have giver you or create your own.
Menus, Nav Icons, Search Icons, Mini Cart,
Account Items, Search and much more...
Layouts
GIANT LIBRARY OF VARIATIONS
Giant variety of layouts to create your site with unlimited possibilities.
Layouts
Max Width 1200px, 1170px, 1024px,
full width, etc...
Sidebars
Sidebar can be set to be on left, right, both or even disabled.
Sliders
You can set several different types of sliders, boxed, full, grid, etc..
Shop Category Pages
The category page can show from 2 to 8 columns of products.
100K+
People Already Using Porto UX Design
100K+ IN ALL PORTO VERSIONS
TOP 5 STAR RATING
Real people, real stories. Hear from our community.
"I have purchased this template four times for different projects and will soon be purchasing my fifth. This options for this template are limitless and customer service is amazing!"
"This template is pure joy to work with and customize. Everything is designed so clearly and it just makes your life easier to design a site. Highly recommend."
"This theme continues to blow my mind! I can't believe how many features and layouts that are included and yet how elegantly it's all executed underneath."
"The best template i had work on!!!!!"
"The best theme in Themeforest. I like it because I can customize it without problems."
"Very impressed with the great customer support."
"Good code quality ! Very fast and good support ! I recommended it in 100% !"
Professional Support
ONLINE DOCUMENTATION, VIDEOS AND FORUM
Any problem while using Porto? We're here to help you.
Niche Demos - 45+ demos with niche layouts and features combined.
Exclusive Features - Porto offers lots of exclusive ecommerce features than others.
Fully Responsive and Retina Ready - Our Porto is perfectly designed with modern UX/UI features for all devices.
Modern Design - Porto is always being updated with modern design concepts.
Our Core Features
Powerful features and inclusions, which makes Porto standout,
easily customizable and scalable.
100% Fully Responsive
Not only working fine on any screen resolutions, Porto offers very beautiful layouts and avoid any heaviness for small resolutions.
Clean and Professional Codes
The Template is ready with clean and well structured coding style by the Professional developers team.
Modern Design Layout
Every single section is created with the passion and years of experience in the website development.
Perfect Documentations
Do you also think HTML documentation is not important? Porto will say 'It's also important' and try to provide rich HOW-TOs to our customers.
Well Organized CSS & JS
Have you ever seen JS working like a geared cogweels? High speed and 'No Free Time' is the main point which Porto always concentrate on.
Stable Structure
Easily adaptable to our well-organized structure, customers will be satisfied by updating forward versions without any big issues.
High-Speed Oriented
Porto has high performance framework base, everything is oriented to high speed. Choose Porto and make your site at high performance.
Flexible & Customizable
Not only using provided layouts, you can create new beautiful layouts without any complex working. Best template for developers and designers!
CSS 3 Animations
Porto comes with cool animations based on latest CSS3 technologies, please see nice and attractive CSS3 animation effects in demos.
Limitless Components
Various types of components are provided in each demos and element pages. Every component is easily fully customizable as you imagine.
Continuous Updates
Lifetime updates with trendy designs of nowadays and more advanced features will make your site always fashionable and up-to-date.
Powerful Framework
Porto is one of the world's powerful frameworks which is based on a huge collection of UI components and various UX layouts.
Cool Banners
Comes with hundreds of trendy banners among 45+ demos and 150+ pages. They are fully responsive and their animations work perfectly fine.
UX eCommerce
Various layouts and filtering options for stores and products are proved the reason why Porto is professional in eCommerce area.
Friendly Notification
The functionality to notify actions for shopping or to notify special events is one of Porto's cool features for user-friendly UI and UX.
Porto Elements
Giant variety of elements to create your site with unlimited possibilities.
Build your website with Porto Html
Purchase now. Only
$35!
Porto UX Design has been available on ThemeForest since 2015 and is one of the top sellers with more than 100K+ sales.
SUPER HIGH PERFORMANCE
Strict Coding Standards
Free Lifetime Updates
BUY PORTO NOW