More than
50 000

surgeries

The number of surgeries performed in our clinic
Our eye care center offers a full range of eye health services to clients of all ages, from children to older adults
The optometrists our practice provide eyewear prescriptions and offer corrective laser eye surgery co-management as well.
Eye problems can range from mild to severe; some are chronic, while others may resolve on their own.
We diagnose and manage ocular diseases such as Glaucoma, Macular Degeneration, Diabetic Retinopathy and Cataracts.
If you're ready for an alternative to glasses and/or contacts look to us for co-management of LASIK, cataract, and other ocular surgery.
Our eye doctors have the latest technology and lots of experience with eye infections, scratched eye, something stuck in your eye.
The Heart and Science
of
Ophthalmology
Many of the normal daily activities we take for granted – working, driving a car, reading – depend on the health of our Eyes. Eye disease which goes undetected can lead to unnecessary impairment of sight. We at our centre feel your eyesight is irreplaceable. Many of the normal daily activities we take for granted – working, driving a car – depend on the health of our Eyes.
Complete clinical evaluation of the eye.
A visual acuity testing, non-contact tonometry is done for every patient.
After a split lamp examination, refraction is done wherever required.
All patients entering the clinic for the first time undergo a detailed fundusexamination with indirect ophthalmoscope, to rule out any retinal disease.
Eye muscle coordination especially for children is tested.
The range of clinical and scientific expertise of our ophthalmologists enables us to deliver high-quality care for the full range of eye conditions, including:
Age-related degeneration
Cataracts
Comprehensive eye care
Corneal surgery/external disease
Cosmetic eye surgery
Detached retina
Diabetic retinopathy
Eye cancer
Glaucoma
Molecular immunology
Neuro-ophthalmology
Ocular pathology
Pediatric ophthalmology
Refractive (LASIK) surgery
Retinitis pigmentosa
Uveitis
Eyes consultation
$69.99
Ophthalmologists consultation
Complete eye examination
Modern equipment
Laser eye surgery
$499.99
Ophthalmologists consultation
Modern equipment
Postoperative examination
Cataract treatment
$529.99
Ophthalmologists consultation
Cataract surgery
We use only best IOL
Why Choose Us?
We guarantee the highest professional standards and use the proven, pioneering andgame-changing ReLEx smile technique performed with ZEISS VisuMax as well as the mostadvanced lens surgery.
High Standard of Ophthalmology
Committed Ophthalmology Team
Modern Ophthalmology Equipment
Our Statement
At our family owned eye clinic we strive to provide our patients with the ultimate eye care experience every time they visit. Check out our Mission and Vision Statement below!
Mission
Our mission is to provide clinical excellence and unmatched professional service to give our patients the best opportunity for a lifetime of healthy eyes and excellent vision.
Vision
Give our patients the best possible vision performance and subsequent quality of life by providing the best vision and eye healthcare possible.
Our Principles
We have long lived by guiding principles that define and differentiate us. We foster an environment of trust and mutual respect, free expression and inquiry, and personal resilience and achievement.
We Aspire to Excellence
We Embrace Diversity and Community
We Promote Curiosity
Our Community Achieves Through Collaboration
We are Passionately Engaged
Our Philosophy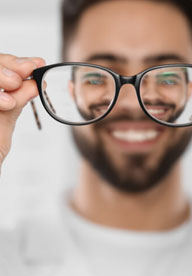 Our philosophy is to provide exceptional eye care, which requires individual attention and genuine concern. Our office provides a unique experience allowing us to treat you, the patient, and your vision concerns. We facilitate building a strong patient-doctor relationship through direct one-on-one communication.
We believe in the power of sight
We believe in each individual's unique vision
We believe in state-of-the-art medical eye care
Ophthalmology Devices
Our Equipment
ZEISS Cirrus HD OCT 500 & 5000
The new CIRRUS HD-OCT models 5000 and 500 are specifically designed to deliver a carefully constructed set of sophisticated applications that build upon one another to deliver rapidly-evolving diagnostics for multiple patient populations.
| Scan pattern | Capture time |
| --- | --- |
| Degrees | College of Surgeons |
| 512 x 128 | 2.4 seconds |
| 200 x 200 | 1.5 seconds |
| 5-Line Raster / Enhanced HD Raster | 0.8 seconds |
HRK-1 Auto Refractor
Professionals also admire HRK-1's commitment to its fundamental foundation as a quality Auto Ref/ Keratometer, now featuring Smart Assembly Moving Control Technology, and high-performance light source. As eye-diseases and ophthalmologic disorders are increasing, Huvitz is devoting its efforts to think more deeply about the essence of its technology offerings.
Smart Assembly Moving Control Technology
Quick Virtual Aiming Dot Function
Simple up & Down Auto Tracking
Familiar User Friendly Interface
Huvitz HRK-8000A Autorefractor Keratometer
You can customize lenses, play a more active role in managing cataract and refractive surgery patients and more with the HRK-8000A. The HRK-8000A combines the features of an auto refractor, auto keratometer, and wavefront aberrometer into one, high-tech instrument.
Optimized Optical System
Micro Lens Array
Customized Lens Manufacturing
More Data on Aberration Measurement
High Order Aberration Map
Perfect Team
Our Specialists
Dr. Stuart Orozco
| | |
| --- | --- |
| Speciality: | Ophthalmology |
| Areas of Expertise: | Cataract Treatment |
| | Laser Eye Surgery |
| Years of Practice: | 20 Years |
| Working Time: | |
| | |
| | |
| Contacts: | |
Dr. Frank Bigham
| | |
| --- | --- |
| Speciality: | Ophthalmology |
| Areas of Expertise: | Cataract Treatment |
| | Laser Eye Surgery |
| Years of Practice: | 20 Years |
| Working Time: | |
| | |
| | |
| Contacts: | |
Dr. Betty Bone
| | |
| --- | --- |
| Speciality: | Ophthalmology |
| Areas of Expertise: | Cataract Treatment |
| | Laser Eye Surgery |
| Years of Practice: | 20 Years |
| Working Time: | |
| | |
| | |
| Contacts: | |
Clinic Testimonials
I would like to give you a special 'Thank You' to all of you for the careyou've given. You were special to a part of our lives for the year we knew you all. You werevery caring. Nurses like you are never forgotten. I just can't thank you enough.
– Joseph Dunbar, Carpenter
Today is my last day of infusion. But I know I will be back …not as apatient but a visitor. I have only positive things to say about the nurses at MedEra here ininfusion and also on the 4th Floor.
– Steven Roa, Businesswoman
Am very impressed with you all as well as being highly proficient isabsolutely adorable. I feel so relaxed in her capable hands and hope to be her patient for avery long time! You are a fantastic team!!!
– Wilmer Stevenson, Creative manager